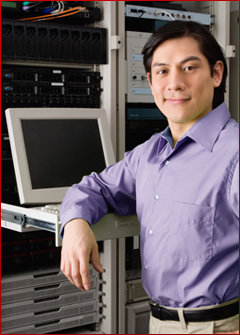 Systems

Engineering





Network System Engineer


Set up, install server racks, UPS's, network cabling, patch panels, routers, switches, cooling, power systems.
Set up and install server rails, and servers.
Set up and install Blade server systems.

Server Systems Engineering:
Installing OS (Windows, Linux, Unix).
Installing and configuring Virtualization systems and virtual machines.
Installing and configuring email servers.
Installing and configuring web servers
Installing and configuring DHCP, DNS, Firewall, load balancing, data backup systems.
Active Directory Service (Windows), NSS/LDAP (Unix/Linux).
Installing and configuring file server, NFS and secure shares.
Installing and configuring Secure Systems, SSL, VPN, encryption.



Client Systems Engineering:


Install Client/Server software in workstations/servers.
Create and troubleshoot client access to servers and network resources.
Install OS and applications on PC workstations.
Build, troubleshoot, upgrade and repair PC workstations.